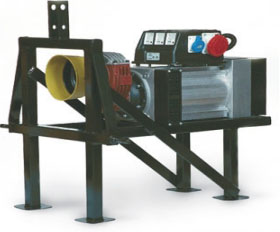 Tractor-powered electrical generator for low-speed 1500 rpm .
This equipment provides a smoother output and extra power during a temporary overload. The generator is self magnetized and equipped with automatic voltage regulation.
Gearbox in oil bath. Mounted on the frame, four legs, and monts for tractor linkage.
Enclosure with complete instrumentation, voltmeters, ampmeters, frequency meters, over and under voltage protection and RCD.
Outlets via one three-phase 400V 63A CEE and one single-phase 230 V, 16A.
Technical data:
Output power
Output voltage
Required tractor
Input speed
Weight

30 KVA
400 V and 230 V
75 hp
440 rpm
225 kg