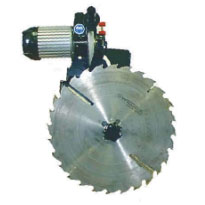 Ecoslipen, grinder intended both for Ecosågen sawblades and edger sawblades.
Makes it easy and profitable to sharpen the blades yourself, completely independent of access to grindery.
Conveniently placed on a small desk. Grinding machine is operated manually and is designed for breast-grinding carbide teeth. Grinding head is adjustable for different grinding angles. An adjustable clamp supports the blade and prevents vibrations. The depth of the grinding movement is set with an adjustable bottom stop. Grinder is equipped with lighting.
Ecoslipen works with a specially designed diamond grinding wheel that doesn´t require water cooling
Technical data:
Blade diameter
Engine
Grinding wheel
Feeding

200 mm and 400 mm
230 V, 2.800 rpm
Diamond, diameter 150 mm
Manual